Industrial Paper Shredder Machines (Katran Machine)
Industrial Paper Shredder Machines or Katran Machine and other shredder machines from Kavinstar.in are well known for their efficiency and robust make. Katran Machine or Paper Katran Machine is popular with Fruit Vendors as it is used during Fruit packaging. Katran Machine is a heavy-duty paper shredder machine and it is used to shred newspapers which is used in packing fruits.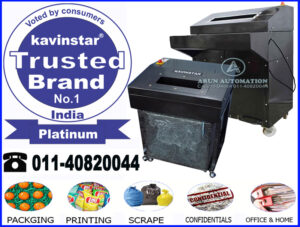 This heavy duty shredder is used to reduce the volume of the rejected material and to avoid duplication and misuse and hence it has applications in numerous industries such as:
• Pharmaceutical Companies
• Label Printing Industries
• Paper Mills
• Packaging Industries
• Government Offices
• Colleges
• Banks
• Corporate Office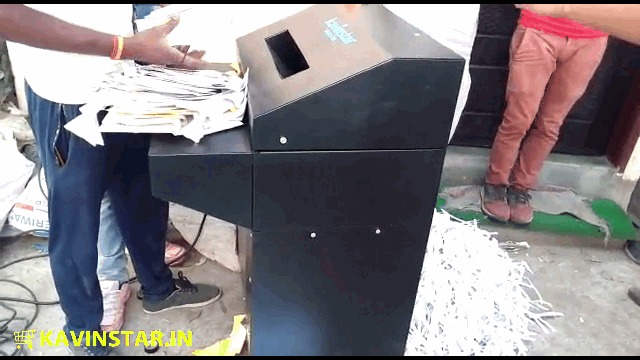 This type of machine also known as several names like, Heavy Duty Paper Shredder Machine, Industrial Paper Shredder Machines, Commercial Paper Shredder Machine, Strip Cut Paper Shredder Machine, Straight Cut Paper Shredding Machine, Paper Crusher or Crushing Machine.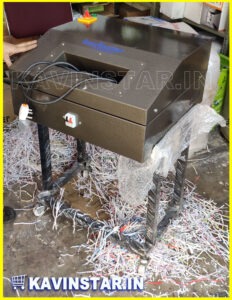 Specially design for volume paper shredding per hour. Business houses & packaging industries are using the paper shredder to shred unwanted volume paper documents. Shredding old waste paper documents through the shredder machine helps minimize security risk. There are various types of office paper shredders from small office shredders to large industrial paper shredding machines.
Kavinstar is a popular manufacturer and exporter of different types of paper shredder machines. We have taken the utmost care in manufacturing all our paper shredder machines and ensured that there are no plastic parts used in manufacturing. This paper shredder is a user-friendly machine and vibration-free. We supply industrial paper shredding machines to Rajasthan, Gujarat, Maharastra, Tamilnadu, Karnataka, Jammu & Kashmir, Punjab, Himachal Pradesh, Uttarakhand, Uttar Pradesh, Madhya Pradesh, West Bengal, Assam Mostly. It is easy to clean and lubricate.Get in Touch with Us for More Information about Katran Machine and shredders