Loose Note Counting Machines (Cum Fake Note Detector)
Loose note counting machines are also known as currency counting machines with fake note detectors. The software helps in detect double notes, chain notes, half notes, and jam banknotes. These three are regular and simplest in use models in our series allows for up to 4-8 hours of continuous counting of 1000 bills per minute. These time-saving machines will allow you more time to earn money by doing all the counting work for you. through increasing accuracy and eliminating errors.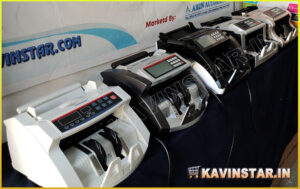 Cash counting can be a time-consuming and tedious task. Let us help bring basic organization and safety into your life. With our Intelligent Digital Cash Money Counter and Detector.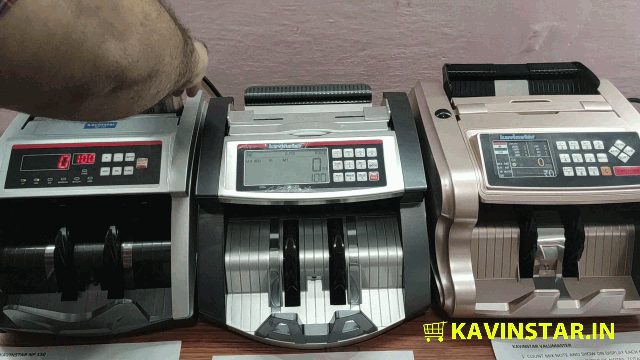 Loose note counting machine used to count open /loose note which shouldn't tie with anything. Some loose note counter machines count all types of currency of the same value. And some count mix note of the currency with the total value of amounts. The loose currency counting machine counts currency and displays the numbers of Note have been count.  It also tells you the fake note. This loose note counting machine comes with fake note detection.
Kavinstar loose note counting machines are commonly used in offices, Banks, Shops, Shopping malls, Movie theaters, Showrooms, Properties dealers, Jewelers showrooms, Financial institutions, Cash collection centers, Currency exchange services. A cash counting machine is highly useful for people who have to deal with a large amount of cash daily. The usage of these machines can ensure that people do not have to recheck notes and waste their time. To meet up with the growing market demands, we have sourced the latest models of cash counting machines. They are highly portable and come with an exciting range of features such as the use of buzzer and error codes for detecting suspected notes. These machines have ultra-portable & flip-open designs which make them user-friendly.
loose note counting machine importers in India, loose note counting machine spare parts, loose note counting machine in Nepal, loose note counting machine in Delhi, Loose note counting machine dealers, loose note counting machine with fake note detector, Godrej loose note counting machine.