Velo Sure Binding Machines (Plastic Strip Binder)
Velo Sure Binding Machines is a type of book binding used by thousands of offices, and is often offered at copy and print shops. Velo Bind involves punching several small holes along the edge of an unbound book. The male end of a Velo Bind Strip with rigid tines is inserted into the holes from the top of the book, and a strip with corresponding holes is placed on the back with the tines protruding through.

VELO SURE BINDING MACHINE

The Velobind machine holds the book tightly, the excess length of the tines is cut and the tips melted to seal the bind.
The Velo Sure Binding Machines is the ultimate desktop strip binding system for moderate volume users, combining power with space efficiency. This fully electric punch and bind system saves time, perfect for the busy office. Pressure bar and adjustable paper alignment guide secures sheets in place, to bind documents up to 50mm or 500 sheets.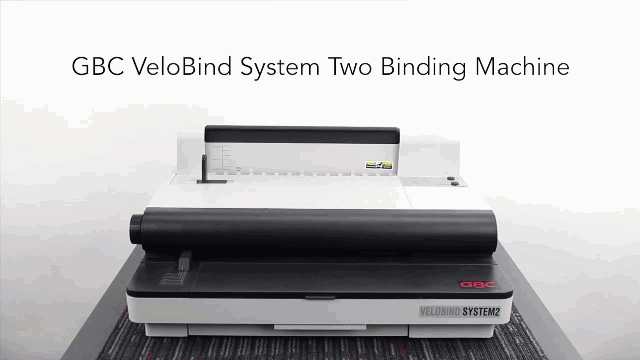 Highlights of the product
Electric push-button operation
Automatic reserve to prevent paper jams
Ready light indicated when binding is complete
Extra-large drawer for paper chips and pin debris
Binds documents up to A4 in length
Velobind book binding involves the use of Velobind strips to securely bind material together. Velobind is one of the only methods that allows for the binding of documents thicker than 2″. There are multiple types of Velobind strips and they can be used to perform different functions. Velobind book binding is ideal for use on large reports or books that require binding. Velobind book binding provides a professional, polished appearance to the final product.
Hot Knife System
The hot knife Velobind system uses heat to permanently seal the documents binding. This prevents any potential tampering from occurring to the finished product. This can aid in organized filing, among other uses.
4-Pin
4-pin Velobind strips contain pins that snap securely into place. Because it doesn't permanently seal the product with heat, this method is adjustable. This allows for easy editing of the documents. 4-pin Velobind strips work with the 11-hole structure of the hot knife system, which eliminates the need for multiple machines.
Here at Kavinstar, we offer electric Velobind book binding machines. The ideal type of machine for you will vary depending on your specific binding volumes and requirements. For further guidance concerning Velobind book binding machines, contact us